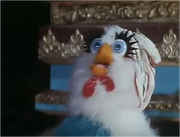 Sandy
is a supporting character in
Meet the Feebles
. She is a nagging chicken who is
Sidney
's ex-wife.
Sandy conceived a child with Sidney called Seymour, who is an extremely odd-looking hybrid of both their species. Sidney refuses to believe that the child is not his (which is obviously not true), but Sandy keeps on nagging him about it.
She is a member of the feeblest variety hour, later she took the crying Seymour into Sidney's dressing room, while he was having a chat with Arthur, to tell him that she's going to put a paternity suit on him. After listening to the couple nag about whether or not the baby is the father's, Arthur decided to have a look for himself. He quickly took a close look at Seymour, and then said, "It's got your eyes, Sid."
Sandy later appeared when she and the other cast members heard that the show's been cancelled, after Bletch convices Heidi and tells the cast that the show must go on, later during the show, still nagging to Sidney about the paternity suit; just as he was just about to introduce Wynyard's knife-throwing act. She then told the audience embarrassing things about the poor elephant, making them all laugh at him. Sidney then ran off stage when she had Seymour crawl up there with her (and because he really had to use the bathroom).
During Heidi's rampage, she tried to get The Crying Seymour out of horrendous sight, but she got her head shot off, with her body running around, gushing blood like a fountain. Sidney's parental instincts then hit him, and saves his son at the cost of his kneecaps getting shot. As he held onto his son, Sandy's head uttered, "Bastard," but Sidney shut her up by stomping on it.