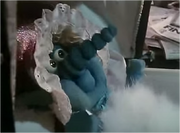 Seymour
is a supporting character in
Meet the Feebles
. He is an odd-looking offspring of both an elephant and a chicken who is the son of
Sidney
and
Sandy
. When Seymour was born, Sandy accuses Sidney of being the father, which he claims that he isn't (which is obviously not true).
Sandy took the crying Seymour to the theater to see his father, and tell him that she's going to put a paternity suit on him. After the parents argue, Arthur, Sidney's friend, decides to look at Seymour, and see if he's really Sidney's kid. After getting a close look at him, he turns to Sidney, and says, "It's got your eyes, Sid."
Seymour later appeared, along with his mother, crawling on stage when his father was about to introduce Wynyard, the knife thrower. As he crawls up to him, and repeats the word, "Dadda," Sindey runs off stage quickly to get away from his ex-wife, his supposed son, the audience that was laughing at him, and to use the bathroom.
Soon, during Heidi's rampage, The Crying Seymour was trying to be dragged out of theater by Sandy, but, after she got her head shot off, he was left out into the open. Suddenly, Sidney's parental instincts hit him, and went to save his son, at the cost of getting his kneecaps shot and he stopped crying and he rocks.
Nowadays, Seymour is currently watching his father, who got full kneecap surgery, work in an orchard as a struggling horticulturist.
Community content is available under
CC-BY-SA
unless otherwise noted.